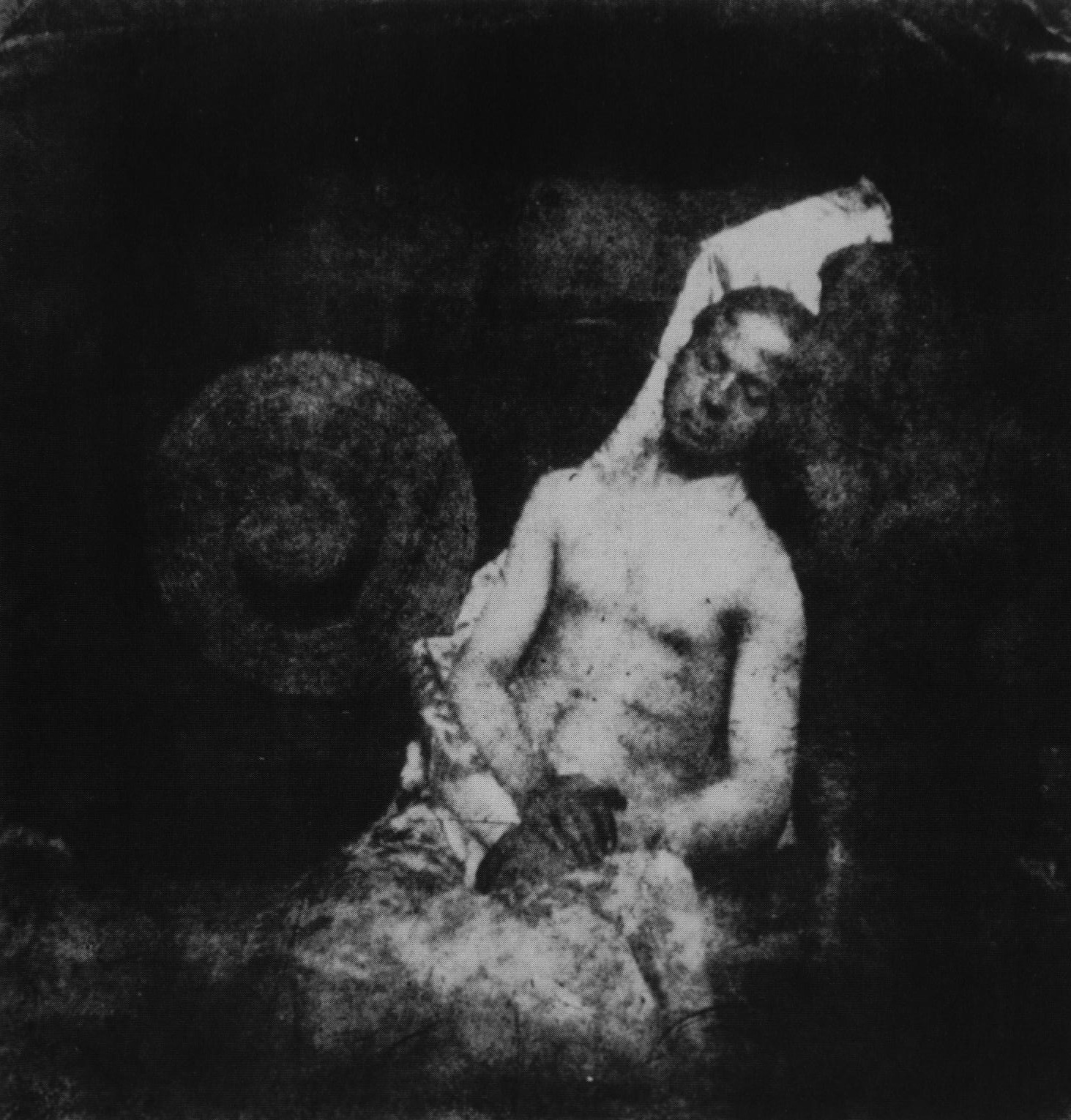 Self Portrait as a Drowned Man, 1840. Photo by Hippolyte Bayard
Born in 1807, Hippolyte Bayard was a civil servant in the Ministry of Finance. During his time off from his job, he experimented with photography. In the summer of 1839, Hippolyte organized the first world public photography exhibition in Paris where he exhibited thirty photographs.
He is known to have invented direct positive printing: a photographic process in which silver chloride paper is exposed to light until it turns dark. It is then soaked in potassium iodide solution. After the approximately twelve minute exposure in the camera, it is washed in a bath of hyposulfite of soda and dried. The image resulted in a unique direct positive that could not be reproduced.
According to research, he invented photography earlier than Louis-Jacques Mandé Daguerre in France and William Henry Fox Talbot in England. Apparently, Hippolyte missed the opportunity to be recognized as the inventor of the medium because François Arago, a friend of Daguerre who was promoting the daguerrotype, persuaded him to postpone the announcement of his process to the French Academy of Sciences.
In 1840, Hippolyte responded to this injustice by creating the first staged photograph entitled, Self Portrait as a Drowned Man. In this image, he portrays himsels as a half naked drowned man who has committed suicide, sitting and leaning to the right against a wall as if dead. It could very well be the first example of political-protest photography.
Hippolyte wrote on the back of the photograph:
The body which you see here is that of Monsieur Bayard…The Academy, the King, and all who have seen his pictures admired them, just as you do. Admiration brought him prestige, but not a soul. The Government, which gave M. Daguerre so much, said it could do nothing for M. Bayard at all, and the wretch drowned himself.
On February 24, 1840, Hippolyte shared the details of the process to the French Academy of Sciences in return for money to buy better equipment. A founding member of the French Society of Photography, he continued photographing throughout his life. In 1851, he was commissioned by the Historic Monument Commission to document and preserve architecture and historical sites in France for the Missions Héliographiques.
Hippolyte died on May 14th, 1887.
Sources:
—Beaumont Newhall, The History of Photography (2002) 5th Edition. pg. 25. The Museum of Modern Art NY
—Rosenblum, Naomi. A World History of Photography (1997) Third Edition. pg. 32. Aberville Press
More Posts: