This was not an easy list to make. Many considerations entered into my selections, and while my top 10 are not necessarily my favorite films of the decade (though a couple undoubtedly are) I have selected them for their relevance to the creation of images by photographers today. Movies are a photographic medium (motion pictures) and should be consumed by photographers for the same reasons we look at painting, sculpture, architecture, theatre, and the work of our colleagues; to be inspired, to be moved, to find something great to rip off (or, if you prefer, to dialogue with in our own work). But in recent years, the reasons to watch lots of films have been compounded by the fact that photographers, more and more, are being asked to make what the industry is now calling "motion content", or what I call, movies.
Multimedia storytelling, let's not kid ourselves, is really just making movies, and the best examples are being made by photographers with a cinematic sensibility. I am asked, often when I am shooting something, if I would shoot "a little video" as well for a multimedia piece. In response I want to know exactly how it is going to be used, what the story is, how it will be edited, who will record sound, hold interviews (if it's documentary in nature), or compose the score. If these questions have no clear answers, then my answer is always no. I work both as a still photographer and documentary cinematographer, and they are not the same thing, not remotely. But, since DSLR's have turned our still cameras into reasonably good movie cameras, people have begun to assume that photographers are filmmakers; people who themselves, usually, are neither one. While they are related, and while I will always argue that photographers should look at film, and filmmakers should look at photography, they are simply not the same. But this transition in thinking also presents an opportunity for the photographer who wants to embrace those differences and apply his or her skills as image-makers in a different field. Many of the films on this list are here for that reason. Some are simply too beautiful to leave off. All taught me something about how to make images for motion pictures, and I believe they can do the same for all photographers.
10. Once (2006) – Director: John Carney, Cinematographer: Tim Fleming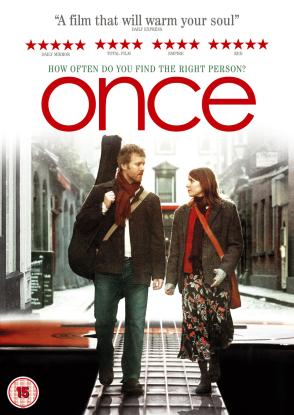 This is a perfect example of a film that is not in my top 10 of the decade as a whole, but offers a great deal if viewed by the cinematically minded photographer. Made for under $200k (though undoubtedly shot for much less – the bulk would have been spent in post), this film shows what is possible with inexpensive video cameras used creatively (almost all hand held except for one brilliantly placed crane shot). Of course a huge part of the success of this film is due to the story, the music, and the chemistry between the two leads. But the photography is noteworthy. I watched it again recently and was struck by the use of reflections, low available lighting, and handheld improvisation. The camera here becomes involved in the developing relationship between the characters, and seems to intuitively respond to their emotional states. The result is beautiful and definitely worth studying (particularly for those of us working in documentary films).
9. Michael Clayton (2007) – Director: Tony Gilroy, Cinematographer: Robert Elswit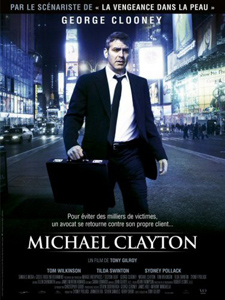 Again, this film may not have made my top 10 overall (though I do love it, and think it is damn near perfect). But I believe this deserves a place on the list for 2 scenes in the film. Neither of these scenes contain any dialogue, and both are very quiet, if not silent. They rely almost totally on the camera (and Clooney, of course). The first scene is one that is used at different points in the film's back and forth timeline. It shows Clayton (Clooney) abandoning his car and walking towards some horses grazing on a field (I will withhold all other narrative details for those who may not have seen it). I read that Gilroy and Elswit spent a week shooting this scene, fifteen minutes at a time. They felt it was so important that the light be that perfect cold dawn, that they photographed from (roughly) 6-6:15am, for a week until they had all the pieces of the scene. I believe they were right. This scene frames the whole film, and attaches the audience to Clayton in a way that none of Gilroy's (beautifully written) dialogue can. The next scene is also the last. In it the camera holds on Clayton in the back of a cab. He sits, saying nothing, and the audience watches his face, watches the reflections dance on the cab's dividing window in front of him. The shot lasts almost a minute, and nothing happens. But again, we engage with Clooney in a powerful coda to his performance, we are asked to share in his reflection, and we gladly accept the invitation. It is the obsessive attention to the details of light and composition that inform every other aspect of this film, and made it one that I've returned to again and again since my first viewing.

8. Let the Right One In (2008) – Director: Thomas Alfredson, Cinematographer: Hoyte Van Hoytema
This Swedish vampire movie went under the radar for most viewers, but was not only one of the most beautiful films made in recent years, but simply one of the best. Both touching and terrifying, I have very little to say about the photography in this film, except that nearly every frame is perfect. I think about it in terms of its images, and I think of them often. If you missed it, watch it.
7. Control (2007) – Director: Anton Corbijn, Cinematographer: Martin Ruhe
Corbijn, a well known music photographer and music video director, went back to one of his first loves for his first feature; Joy Division. I also happen to love Joy Division which may have made me partial to liking this film, but the photography, from the first high contrast black & white frame, captured me completely, making this film one of my all time favorite music biopics. Again, this film was done bare bones, on a small scale, and again almost every frame is perfect. The photographic choices (b&w stock, very high contrast, hard bare bulb lighting and stark golden hour street scenes) inform the characters, match the emotional quality of the music, and set the whole tone of the film. Set against beautiful performances and a great soundtrack, this movie just works, and shows how some unusual photographic choices can set a film apart from everything else out there.
6. The Assassination of Jesse James by the Coward Robert Ford (2007) – Director: Andrew Dominik, Cinematographer: Roger Deakins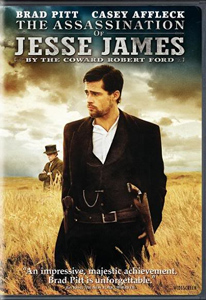 Deakins is one of Hollywood's most celebrated DP's [Director of Photography], and for good reason. His films include Fargo, No Country for Old Men, The Man who Wasn't There (actually I think all of the Coen Bros films since the early 90's), Jarhead, Kundun, and going back a bit to one of my personal favorites Sid and Nancy. But this film, in my opinion, is his most beautiful. Like the film itself, the photography is quiet, almost soft. The snowy landscapes and static frames hold the film's pacing, so that when violence breaks out it is all the more shocking without the handheld, fast cutting, narrow shutter angle tricks that have become associated with "action". Instead of a jerky intro to a train robbery, the coming scene approaches as a warm light slowly begin to reflect off of James' (Brad Pitt's) face, continually surrounded by darkness. The space in the photography and the calculated pacing allow the audience a meditation on the very American relationship between violence and celebrity. The landscape doesn't care who bleeds.
5. 28 Days Later (2002) – Director: Danny Boyle, Cinematographer: Anthony Dodd Mantle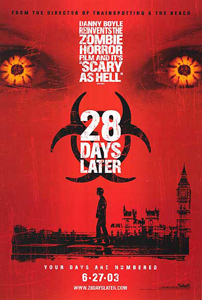 This movie revolutionized cinema in two ways. Photographically, it brought video to the big screen as a viable, beautiful option (something Once capitalized on a few years later). And, it made zombies move like vampires (faster zombies = scarier movie). Shot with a bunch of Canon XL-1 video cameras (a 3 chip minidv that some still swear by), this film decided to spend it's limited budget on locations (emptying out Parliament bridge and filling it with trash, even for only 20 minutes at a time, gets expensive). It brought with it the idea that shooting on video gives a "real" quality that film doesn't have. While I think this is actually not true (and much abused by producers and studios thinking it's cheaper and therefore better), I do believe this film proved that video can be used effectively as a storytelling tool. That it offers a different texture and a different style, much in the way you would choose between fast or slow film stocks. I think it helps us to consider the right tool for the job – a question clearly reflected in photography today as we debate film vs. digital and the value (or lack thereof) of low-res "mobile" photography (an issue near and dear to my heart).
4. Children of Men (2006) – Director: Alfonso Cuaron, Cinematographer: Emmanuel Lubezki

Again, I've chosen a film almost entirely for one scene (which in this case is all one shot, or possibly two cleverly stitched together). And again, I love this shot for the obsessive attention to detail it must have taken to get it. The shot comes at a climactic moment in the film so I won't give too much away about it, though if you've seen the film you probably know to which I refer (hint, it's a long handheld shot that covers a lot of ground). Obviously this is more carefully orchestrated than anything I have (or probably anyone has) ever done in a documentary, but we can still take away that beautiful obsession (or rather, that obsession with beauty) that can elevate our work whether still or motion.
3. A Single Man (2009) – Director: Tom Ford, Cinematographer: Eduard Grau
Without a doubt one of the most beautiful films on this list (in no small part due to the art direction and costume design), I chose this film because it directly, intentionally linked the photography to the emotions of the central character. Through a very clever, yet very simple, use of the DI (digital intermediate) process, Ford and Grau take the film from its start as a desaturated melancholy exploration of a suicidal man's "last" day, to a colorful renewal of life. With each glimpse into possibility, the colors reflect George's (played perfectly by Colin Firth) emotional reaction. He feels physical attraction (presumably for the first time in awhile) and the colors swell and warm until the object of his lust is bathed in golden light, lips red and swollen with blood. We are offered a visual representation of his quickened pulse, without the cliché of a racing heartbeat in the soundtrack. It's the use of texture and color (in this case more than just in the photography) surrounding a beautiful performance that creates the character in the minds of the audience.
2. Iraq in Fragments (2006) – Director/Cinematographer: James Longley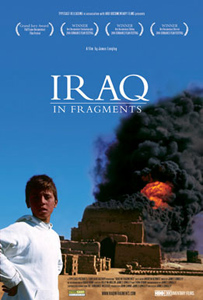 Of all the documentaries I considered for this list, Iraq in Fragments was the most obvious choice. Longley made the film over the two years immediately following the US invasion of Iraq. He worked alone, shooting on a little Panasonic dvx100, and editing as he went. It's a film in three acts, one for each major ethnic group in the country (Sunni, Shiite, and Kurd). Each act has its own visual sensibility, mirroring the location, the politics, and the sense of anticipation and change. If I knew nothing about how it was made, I'd still consider this film one of the best (either documentary or feature) films of the decade, if not longer. But the fact that this was made by one man with a small camera is astounding. It is a testament to the potential impact a photographer could have with the technology available today.
1. The Diving Bell and the Butterfly (2007) – Director: Julian Schnabel, Cinematographer: Janusz Kaminski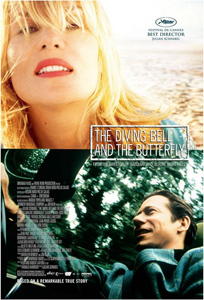 Diving Bell and the Butterfly, upon first viewing, immediately moved into my "favorites of all time" category, and the photographic choices Schnabel and Kaminski made are a huge part of my appreciation. Shot on multiple formats, with various photographic techniques (a little hand cranking, shift tilt lenses, right alongside classically beautiful 35mm photography), this film, better than any other uses the photography to place us inside the mind of the character. While it employs multiple techniques and styles, nothing feels arbitrary. There is no choice made simply because it looks cool, or feels artistic. It is a visual experiment entirely made without gimmicks of any kind. So while the audience can sit in awe of the visual mastery, we are never for a moment taken out of the story. In fact, it is all the more moving because of the experimentation. This movie would probably be first on any list I would make for the last ten years.
Happy New Year everyone!
A postscript
As I said, this was a difficult list to make, and there are so many films that I love that were left off of it, because I felt they relied more heavily on great editing, performances, or were just brilliant films that didn't necessarily teach as well as these might. I could make another entire list on editing, or score, that would probably be equally useful (every photographer knows, even in still work, that often a great sequence of images is far more powerful than a great single image). In that spirit I have decided to list, in no particular order, other films that merit viewing (and reviewing), and that I recommend to anyone making images.
Henry Jacobson, photographer
Recommended Films
Planet Earth (not a movie but amazing)
House of Flying Daggers
Zatoichi
In this World
24-hour party people
Cache
The Piano Teacher
The Fall
Kape Neuwareu (café noir)
Hunger
Eternal Sunshine of The Spotless Mind
I Am Love
Munich
The Fog of War
The Cove
When the Levee's Broke
Manda Bala (send a bullet)
The Good Shepard
Inglorious Bastards
Friday Night
High Tension
Un Prophete
Watchmen
There will be Blood
Road to Perdition
The New World
Brothers of the Head
Slumdog Millionaire
Last Days
Birth
Zodiac
American Gangster
Waltz with Bashir
Babel
Lust/Caution
Amores Perros
Collateral
Man on Fire
Monster
Girl with a Pearl Earring
Moulin Rouge
Miami Vice
Black Swan
Requiem for a Dream
Inside Man
Everything is Illuminated
Bronson
Perfume: the Story of a Murderer
The Princess and the Warrior
The Windmill Movie
More Posts: