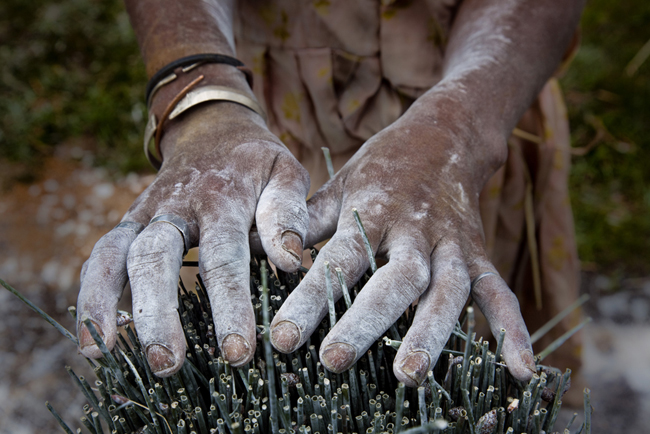 New York City
April 5 – May 14, 2011
The wide-ranging scope of acclaimed photojournalist Ed Kashi's lens will be showcased in a dual exhibit presented for free at the World Financial Center Courtyard Gallery next month.
From April 5 through May 14, Arts World Financial Center will host "Aging in America" and "Madagascar," partnering a pair of photo series which together encapsulate two increasingly important issues: aging and environmental devastation.
In "Aging in America," Kashi chronicles the unprecedented changes confronting the U.S. as a generation of baby boomers become senior citizens, bringing old age into the mainstream. The exhibit will include screenings of three related films by Kashi and Julie Winokur: "Aging in America," "Friends for Life," and "The Sandwich Generation."
Shot on the other side of the world, "Madagascar" delves into environmental concerns, documenting the delicate balance between economic development and ecological preservation in the lush island nation.
Renowned for his ability to put a human face on abstract issues, Ed Kashi is a photojournalist, filmmaker, and educator dedicated to illuminating the social and political problems that define our times. A member of the prestigious photo agency VII, Kashi was a second-prize winner in the 2011 World Press Photo Contest.
"Ed Kashi has a uniquely sensitive eye that allows him to render the human condition in a way that creates a sense of intimacy between the viewer and the photo subject," said Debra Simon, Artistic Director of Arts World Financial Center. "His work is a testament to the power of still images to inspire change, and it's our hope that visitors to this exhibit will come away struck by the work's beauty, but also enlightened and moved."
The free exhibit will be open to the public Tuesday through Saturday from 12pm to 4pm.
What: The Photography of Ed Kashi: Aging in America and Madagascar
When: April 5 – May 14, 2011
Time: 12 – 4pm, Tuesday through Saturday
Where: World Financial Center Courtyard Gallery
Web: www.artsworldfinancialcenter.com/cgi-bin/Go.cgi?q_id=1114
Phone: 212.945.0505
Presenter: Arts World Financial Center
Cost: FREE – No tickets or reservations required
. . . . .
Ed Kashi on Visura Magazine, Issue II
More Posts: