FotoVisura Grant Winners In La Lettre De La Photographe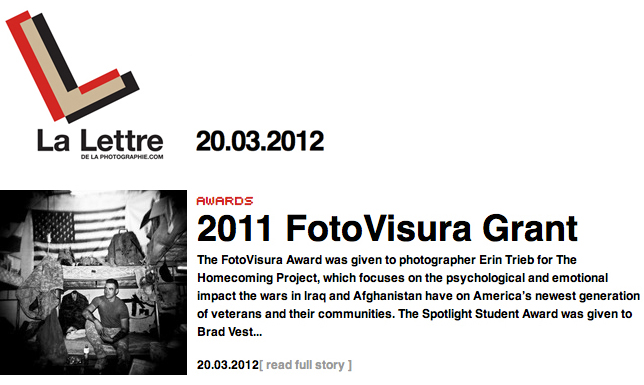 Image by Erin Trieb
A big thank you to CNN Photos for giving a shout out to the FV Grant winners on their twitter feed.
The 2012 WalkThrough Museum | Huffington Post by Adriana Teresa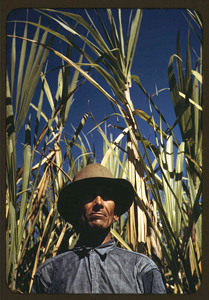 Visura's Adriana Teresa writes on her recent exhibition in San Juan, PR.
"Being a part of this project is one dream come true. The WalkThrough Museum is my first contribution to Puerto Rico; it is a public art exhibit, free of cost, that honors a key component of Puerto Rico's heritage. It is also a message of hope to all my friends and colleagues, who still dream of being given the opportunity to share their voice and contribute to the island of their birth, the one we left in search of a dream — to continue working towards making that new dream a reality."
Read the full article on Huff Post
Image by Jack Delano
FotoVisura Community Highlight | CNN Photo features Julia Kozerski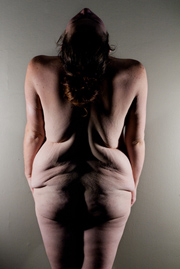 'Half': One woman's struggle with weight loss.
When Julia Kozerski began losing weight in 2009, she started an intimate, "brutally honest" self-portrait project, "Half," documenting the process and her progress. She showed safe, close-up images that didn't reveal her face to classmates during critiques. But the photos quickly "launched into something more important than homework," Kozerski said.
She began to photograph more of her unclothed, changing body and found the process consoled her.
Read the full article on CNN Photo
Image by Julia Kozerski
Visura Spotlight Highlights
PAUL SZYNOL | Natale Solum

Natale Solum is a series of photographs about Poland, where I was born and lived as a child, before leaving for New York City. I returned to Warsaw only some 20 years later. These photos are about the country I've been discovering since then.

Image by Paul Szynol

ELLEN WALLENSTEIN | Pocketbook of Drag Queens

The waitresses and performers became friends; they allowed me to photograph them both "on" and "off". There was mutual trust. As a woman photographing men dressed as women, I was doubly aware of the surrealism involved. It made me question what I used to take for granted, about appearances and what constitutes gender.

Image by Ellen Wallenstein
Your View Highlights | Which series of your work would you share with Visura?
View over 150 bodies of work.
www.visuramagazine.com/your-view
More Posts: