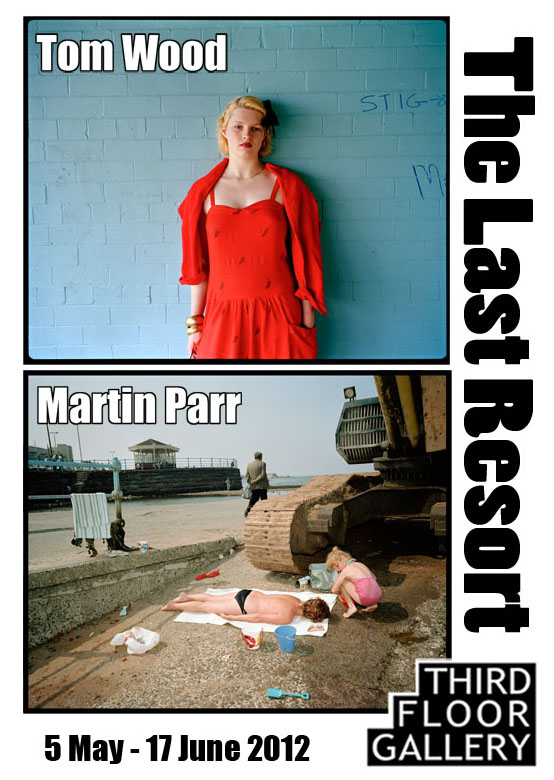 5 May – 17 June 2012 |
www.thirdfloorgallery.com
Opening Night Preview with Martin Parr & Tom Wood: Friday 4th of May from 7pm
Martin Parr and Tom Wood first exhibited The Last Resort at the Open Eye Gallery, Liverpool, in 1986. The show brought images of New Brighton, a beach resort located just across the river Mersey, to the walls of the gallery and to public and critical attention. These photographs came to establish the place of colour in British documentary photography.
During the Victorian era, as the profits of Empire started to trickle down to a larger part of the population and the rail network opened up travel, tourism for the masses took hold and seaside resorts developed around the UK. New Brighton became a holiday destination for generations of workers in the industrial belt of Merseyside and the Midlands. But, by the 1980s, when Parr and Wood were photographing the area and establishing their reputations, industrial decline was gripping the North of Britain.
Against this backdrop, The Last Resort captures an emphatically British and colourful view of the leisure of the working classes of the North of England. Establishing a 'warts and all' approach to photography, the series brings us crowded chippies with peeling paint and sunburned children, thronging wave lagoons of blue water and sunbathers on litter strewn concrete piers.
Martin Parr, born in Surrey in 1952, is one of the most recognised and influential photographers alive. He has exhibited extensively and published close to 50 photobooks, including The Cost of Living and Common Sense. Tom Wood was born in Ireland in 1951 and currently lives in North Wales. His work has had a deep impact on street and art photography. From 1978 he worked in Liverpool and Merseyside, and has published five photobooks, including Looking for Love and All Zones Off Peak.
The opening of this exhibition is supported by Otley Brewing Company.
More Posts: